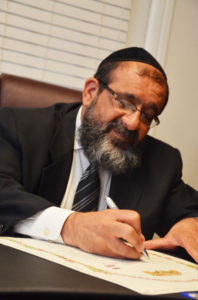 Harav Shmuel Khoshkerman is a graduate of Ner Israel Rabbinical College in Baltimore, MD. There he received his Rabbinic ordination.
He has additional certification as a mohel (ritual circumcision), schochet (ritual slaughter), and sofer (scribe) and has published his highly acclaimed Minchat Shmuel (3 Volumes), focusing on the application of Halacha (Jewish Law) to contemporary issues.
Rabbi Khoshkerman has already attained renown as a posek (legal scholar and decider of Jewish law) and misader gittin (expert in ritual divorce).
He currently serves in the official capacity of Rabbinical Advisor to the Atlanta Kashruth Commission.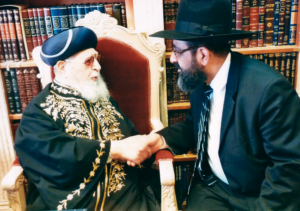 Rabbi Khoshkerman means so much to so many people. But what makes him so special to Ner Hamizrach is his dedication to encouraging and challenging the kehila's continual spiritual growth. The combination of profound Torah knowledge and mystically-rich Sephardic tradition make him an extraordinary resource for interpreting Halacha, teaching, and inspiring, while always embracing his congregants with insight and compassion.
To request Rabbi Khoshkerman's services for your son's Brit Milah, click here.
SEFER MINCHAT SHMUEL
A 2 – volume set written in Hebrew, Minchat Shmuel illucidates hundreds of topics that are relevant to every Jewish home, such as halacha and questions and answers and psak halacha on actual issues that commonly arise. Modern day shailos on technology and its halachic ramifications are discussed as well.
Minchat Shmuel explores areas of halacha on:
Having a maid and how it affects kashruth and Shabbat halachically
Legal matters concerning non-Jews
The Dateline and Halacha
Asking forgiveness according to halacha
Suggesting a shidduch and shadchanim and
many more relevant topics for today's generation
Available at Congregation Ner Hamizrach and ASK.
Cost: $20